Jean Baudrillard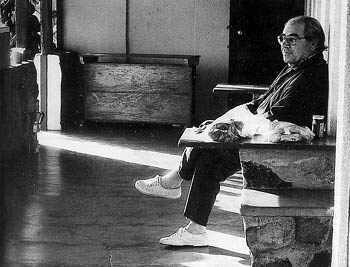 Jean Baudrillard (b. 1929)
A Quote
The simulacrum is never that which conceals the truth--it is the truth which conceals that there is none. The simulacrum is true.
This site has a copy of some of Simulacra and Simulations Jean Baudrillard,
http://www.stanford.edu/dept/HPS/Baudrillard/Baudrillard_Simulacra.html
Some Sites
Follow some of the links especially to the Ctheory essays and interviews
Site on Baudrillard , links to online versions of articles and books etc
http://www.lcc.gatech.edu/gallery/radio-idt/speakers/baud.html
Links to e text essays and excerpts
http://www.uta.edu/english/apt/collab/baudweb.html
Welcome to the world of Jean Baudrillard
CAUTION: OBJECTS IN MIRROR ARE CLOSER THAN THEY APPEAR
http://www.csun.edu/~hfspc002/baud/index.html
Now on to Simulacra. These are similar to simulations, but they go one step further. The concept of the simulacrum is associated most strongly with (guess who?) Jean Baudrillard. Simulacra are copies of things that no longer have an original (or never had one to begin with). E.g., Disneyland's Main Street USA is a representation of something that exists in the absence of reality.
http://carmen.artsci.washington.edu/panop/subject_S.htm#SIMULATION
Jean Baudrillard is a cultural theorist who, like Carl Jung, became concerned about Western Culture's abandonment of the symbolic and over- involvement with the sign. Unlike Jung who responded by developing an individual psychology for exploration of the *symbolic* in the personal realm, Baudrillard took on a McLuhanian like media probe and analysis of the *sign* in contemporary culture. His startling results take us into a hyperreal world where models of reality dominate and reality itself has given way to simulations of the real, and eventually to simulations of simulations that have no anchor, nor interest, in the real whatsoever.
http://www.dreamgate.com/dream/articles_rcw/baudrillard-dream.htm
A Last Word
We used to live in the imaginary world of the mirror, of the divided self and of the stage, of otherness and alienation. Today we live in the imaginary world of the screen, of the interface and the reduplication of contiguity and networks. All our machines are screens. We too have become screens, and the interactivity of men has become the interactivity of screens." Jean Baudrillard, Xerox & Infinity.
Should someone with a masters in communication be familiar with the theories of Jean Baudrillard ? If not why not and if yes what are the critical readings, theories and concepts and how can they be applied?